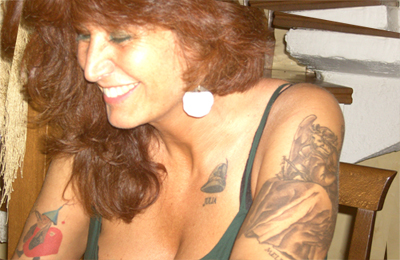 Giulia Tasso
Of Tuscan origins, Giulia Tasso spent her formative years in South-East London. She studied Ceramics at the "Croydon College of Art and Design", leaving with an HND (Higher National Diploma) in " Design". She further developed ceramic technical skills, as well as receiving a fine art orientated tuition, at the then "Central School of Art and Design" which is now part of "The London University of the Arts".
Years later she resumed her studies and achieved her " Honours" degrees in " Humanities with Art History", and in " English Literature".
Her artistic journey began exclusively with design, creating functional objects such as lights or tea- sets. Raku has always been her passion as far as clay is concerned. Raku is such a fascinating technique that one cannot be constricted, therefore, after quite a long period of producing and selling raku-fired functional ware, design began to feel confining, and a built up need to liberate one's self propelled a new, more dynamic expression of art. Painting was the beginning of a fast development which turned a very precise form of artisan work into an impulsive, and aggressive form of communication ; Painting, Sculpture, Installation, Performance, the use of new media : recycled material, fabric, paint, sand glue, clay. Anything is valuable as long as it can be exploited to convey meaning, thus, feeling and emotion.
Tasso has exhibited her work in London, Rome, Milan, Turin, Venice, Palermo, Bruxelles, Amsterdam, Paris and three times at the Florence Biennale of International Contemporary art.
Di origine toscana, Giulia Tasso ha trascorso gli anni formativi in Inghilterra dove ha conseguito il Diploma in Ceramic Design al Croydon College of Art and Design ed alla Central- St. Martin School of Art and Design di Londra, laureandosi in seguito in "Humanities with Art History" e in "Letteratura Inglese".
Il suo percorso artistico è iniziato esclusivamente con il design, creando oggetti funzionali che si sono, col tempo, trasformati in sculture dato l'uso della tecnica "Raku" , dove tramite sperimentazione tra argilla refrattaria e smalti, il risultato finale riesce costantemente a sorprendere. La necessità di esprimere emozioni e sensazioni è subentrata con la pittura, la quale ha permesso una tale liberazione artistica che tutt'ora continua ad evolversi introducendo metodi e tecniche di espressione poco ortodossi, arrivando all'istallazione ; una combinazione di pittura, scultura e materiale riciclato. Concentrandosi su vari temi, sia personali che sociali, il suo intento è di scavare, trovare o ritrovare forti emozioni interiori per poi riprodurle attraverso la sua arte.
Giulia Tasso ha mostrato più volte a Londra, Roma, Torino, Milano, Ferrara, Venezia Palermo, Bruxelles, Amsterdam, Parigi e alla Biennale di Firenze.